PRESS RELEASE - by JOC(SW) Douglas Stutz - USS Abraham Lincoln Public Affairs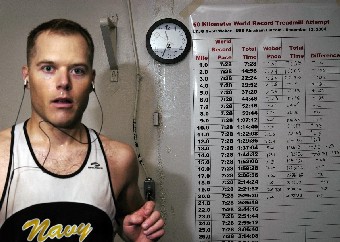 Lt. j.g. Geoff Weber showed remarkable poise and determination on Sunday, Dec. 12, as he established a new world record on the treadmill by running 50 kilometers (31.2 miles) in 3:46:12, seven minutes and one second off the old record of 3:53:13. (Photo by PHAN Jordan Beasley)

Somewhere in the middle of the Pacific Ocean - Usually a treadmill run offers neither historical tradition like the Boston Marathon, or rolling grandeur of the Big Sur Marathon, nor even the civic silliness of the San Diego Rock and Roll Marathon.

LTJG Geoff Weber, assigned to USS Abraham Lincoln Operations Department as Intelligence Division officer, managed to combine elements of all three of the aforementioned world class runs, en route to setting a new world record for running 50 kilometers (31.2 miles) on a treadmill, with a overall time of three hours, 46 minutes and 12 seconds. Weber's time eclipsed the old Guinness Book of World Record time of 3:53:13 by seven minutes and one second.

All this on a Sunday morning in the middle of the Pacific during a surge deployment, before his noon watch, and having to deal with the occasional cross-country element brought on by a tropical depression bringing 80 knots winds and a sea state of up to 25 feet.

"I had anticipated at trying to better the old mark by at least three minutes," explained Weber. "But got a little excited by mile 20 and upped my pace. But by mile 27 I had a hamstring cramp and had to ramp back a bit. If I let them, the miles can really start to eat me. It is a very humbling experience to run distance. No matter how great you feel at the ten mile or good at the 20-mile mark, there is always some type of physical or mental wall to hit. If I'm not prepared for it, it can make me quit and not achieve my goal."

Weber was quick to point out those friends and co-workers who came up to run with him, share encouraging thoughts, and vocally urge him on, played a vital role in reaching his stated goal. "Everyone who came up," the Tucson, AZ native said, "and joked, cheered and clapped, helped me reach the finish line. It just all came together. Having everyone here helped me finish."

For the finish line on a treadmill on a Navy ship at sea is really one that truly only exists in the runner's head. "But breaking the record was easier to accomplish that I anticipated," Weber noted. "By the first ten miles, I really felt confident. Just as I also feel confident that someone else will shortly come along and break it right after me."

Lincoln fitness coordinator Cecilia Fresques pointed out that there are side benefits to what Weber just accomplished. "It is certainly different, and of course, he's got to also be a little crazy to do it," Fresques quipped. "No one has ever done anything like this before. But the real benefit is that he has definitely motivated a lot of us to push ourselves towards a goal that we might think is out of reach. It's really great."

With a marquee tout board keeping a running tally of time and distance, studio video cameras surrounding the event for historical accuracy to send to the Guinness Book of World Records and provide running posterity coverage, and a steady gathering of well-wishers, there were those Sunday morning runners who were unaware of the event. They couldn't help but cast a continuous stream of perplexed and bemused looks at the world record scene unfolding before them, mile after steady mile.

"But we had no doubt he'd do it," said Information Specialist Third Class (SW/AW) Jacob Steele, from Calipatria, Ca., of his division officer. "He sometimes averages over 10 miles a day out here and is very disciplined in getting his run time in."

Weber stated that he was running up to over 100 miles a week during the initial stages of deployment.

"I toned down my 100 miles to 70, then just did 50 a few week ago and last week only did two eight-mile runs," he explained. "I'll use this run to gradually get myself back up to around the weekly 140-150 miles mark."

Weber attests that the overall goal of doing a marathon, let alone an ultra-marathon, is one event that runners traditionally don't just go out and compete to complete. "The best method to accomplish a long run like this is to start slow, even walk if necessary, but always keep moving and never give up. During the (50 miles) course around the Grand Canyon once, I was just happy to be able to put one foot in front of the other to finish what I started."

Weber's has already accumulated more run experience in his 37 years than most do in several lifetimes. He completed his first major run, the Boston Marathon, with an unofficial time of 3:56:00 when he was age 17. Conversely, he passed the 26.2-mile marathon mark doing this ultra-run at 3:12:00. His personal best has been a time of 2:50:50 (unofficial) in the 1990 Boston Marathon. He has completed the 2000 and 2001 Grand Canyon 50-mile Trail Ultramarathon with times of 9:56:10 and 10:15:56. He placed second fastest in the over-30 year old, 2000 Arizona State Games 400 meters with a time of 59:26. He was awarded the 2003 Athlete of the Year for Naval Station Everett. His list of accomplishment extends to numerous 5k runs, as well as competitive cycling events, such as with the NCAA Cycling Team at University of Colorado, and being tabbed to join the 1985 Collegiate Cycling Camp at U.S. Olympic Training Center, Colorado Springs, CO.

When asked what's up next, LTJG Weber explained that breaking the 50K treadmill world record is a start. "I got more goals coming up to get ready for," he said. "I'd like to break the 50 mile and 100K treadmill world records. I'd like to win the 135-mile Badwater Ultramarathon across Death Valley, and run the 2,174 mile Appalachian Trail in 40 days to set a new world record."

"And," he continued "I also hope my wife, Nancy, runs a marathon with me."

With one world record completed, Weber's jest for adventure has his feet ready for more feats. One ultra mile at a time.

---
Treadmill World Record List